Bees

Completely
Australian Run

Mention this Ad & Get
10% discount off any job
Bee Exterminators
Experience a Bug Free home
In the Australian environment, a bee problem is a common one unfortunately. Like wasps, bees are also beneficial insects. Their role in the ecosystem is to transport pollen and aid in the pollination of plant crops. Without them, the world would lose a third of food supply.
However, that does not mean it's easy and does not take long for them to become pests. Additionally, bees are also highly aggressive when they are disturbed or threatened and when intruders come near their nests. They are also known to attack in large numbers. That is why it is a basic safety precaution that we keep away from their nests.
When it comes to bee extermination process, do not try to perform it by attempting a Do-It-Yourself approach or else you will suffer the consequence of their painful stings.
It is strongly urged not to put yourself or anyone else in danger when trying to handle this bee infestation. You should leave that to a pest control specialist that has the extensive experience, expertise and strategies as bee exterminators.
The Best Pest Control Services in Sydney
We guarantee our customers 100% workmanship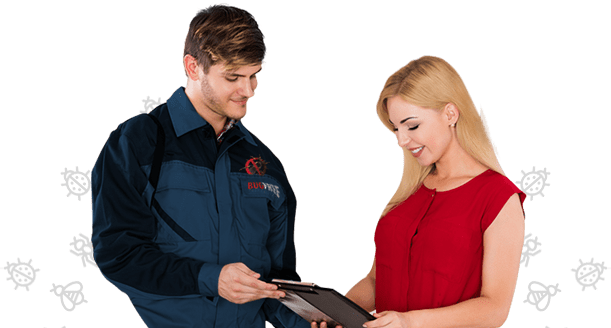 Highly Experienced & Trained Technicians

Servicing over 10,000 Pest Control Services

Quality Services & Affordable Prices

Same Day Bookings & Services

Providing Long Term Pest Control Services

Guaranteed On-time Services
We got you covered!
---
Look no further than Bug Free to provide you the best quality of pest control services at a competitive pricing for excellent Bees antextermination service.
Quality you can trust!
---
At Bug Free, we ensure to remedy your pest problems at hand and to happily provide a guarantee for extra peace of mind. Our highly skilled and experienced pest controllers will have those Bees exterminated and guarantee your home will be bee-free.
Get in Touch
Keep your home & family protected!

Please do not hesitate to get in touch with us at Bug Free to learn more about our Bees extermination service and other services by giving us a call on 1300 855 548 and make sure to mention our website to receive 10% discount off your bill!
See all our services
Book a Pest Service