Birds

Completely
Australian Run

Mention this Ad & Get
10% discount off any job
Bird Control
Experience a Bug Free home
Birds are considered pretty and harmless creatures. Birds can be a beautiful part of our natural environment, but that beauty can be ruined by populations of pest birds that damage homes and property with their droppings — which can spread diseases – and disturb our peace with their noisy vocalisations. A couple of birds visiting your property every once in a while is not particularly a cause for concern. However, if you notice increased amounts of insect activity or that you have several birds that seem to stay at your property, then you have a bird infestation. Birds will attract fleas, flies, cockroaches, and even mice.
Birds may seem harmless but they can actually host more than 60 transmittable diseases, like salmonellosis and encephalitis. Other than presenting peril to to individuals' health, they can also put your business at risk. Birds can become aggressive and assault the employees or customers, particularly when it is their breeding season when they are shielding their young . If you have birds nesting of your property, you have to make sure that you either monitor the situation and prevent it from happening in the future, or expel the bird and encourage them to find another home. The key to dispose a bird infestation is doing an early detection and effective bird deterrent procedures performed by a pest controller expert.
The Best Pest Control Services in Sydney
We guarantee our customers 100% workmanship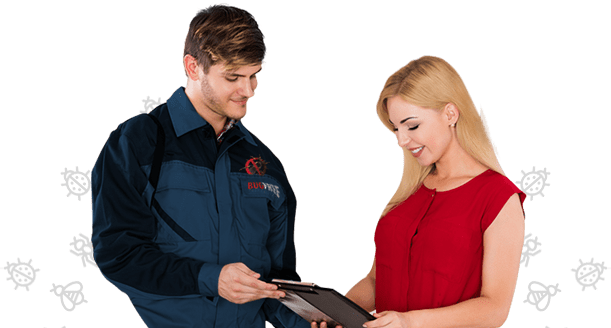 Highly Experienced & Trained Technicians

Servicing over 10,000 Pest Control Services

Quality Services & Affordable Prices

Same Day Bookings & Services

Providing Long Term Pest Control Services

Guaranteed On-time Services
We got you covered!
---
Look no further than Bug Free to provide you the best quality of pest control services at a competitive pricing for excellent Birds antextermination service.
Quality you can trust!
---
At Bug Free, we ensure to remedy your pest problems at hand and to happily provide a guarantee for extra peace of mind. Our highly skilled and experienced pest controllers will have those Birds exterminated and guarantee your home will be bird-free.
Get in Touch
Keep your home & family protected!

Please do not hesitate to get in touch with us at Bug Free to learn more about our Birds extermination service and other services by giving us a call on 1300 855 548 and make sure to mention our website to receive 10% discount off your bill!
See all our services
Book a Pest Service