Cockroaches

Completely
Australian Run

Mention this Ad & Get
10% discount off any job
Cockroach Control
Experience a Bug Free home
Cockroaches are a standout amongst the most well-known household pests around the world. Cockroaches enter homes looking for sustenance, water and shelter. When they swarmed over an area, they can multiply rapidly, posing a danger to your solace and well being. Cockroaches are extremely dangerous if they live and breed in your home or business. Before wandering around your property, they have already been crawling through sewers, rubbish, and waste. The bacteria on their bodies will then spread throughout your home wherever they go including in your food. Cockroaches are able to transmit types of parasitic worms, Salmonella, and other bacteria that may cause vomiting, fever, and diarrhea. Cockroaches are also a major health concern since they produce several very potent allergens that have been linked to the development of asthma, especially for young children.
Most cockroaches would choose to lay on wood rather than on metal and other different surfaces. That is why you will frequently discover them living in wood cupboards or in cardboard boxes. It is critical to get rid of cockroaches before an infestation takes place. Cockroach infestations appear to spread like wild fires so you are certainly recommended to have a professional treatment for these pests.
The Best Pest Control Services in Sydney
We guarantee our customers 100% workmanship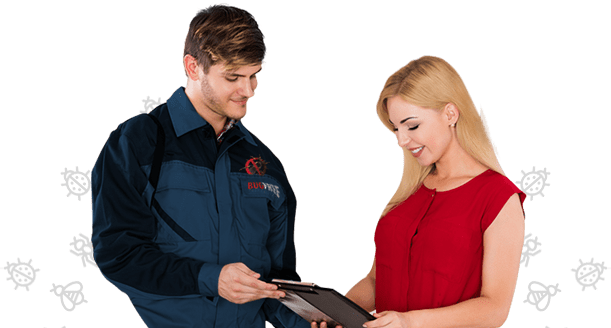 Highly Experienced & Trained Technicians

Servicing over 10,000 Pest Control Services

Quality Services & Affordable Prices

Same Day Bookings & Services

Providing Long Term Pest Control Services

Guaranteed On-time Services
We got you covered!
---
Look no further than Bug Free to provide you the best quality of pest control services at a competitive pricing for excellent Cockroaches antextermination service.
Quality you can trust!
---
At Bug Free, we ensure to remedy your pest problems at hand and to happily provide a guarantee for extra peace of mind. Our highly skilled and experienced pest controllers will have those Cockroaches exterminated and guarantee your home will be cockroach-free.
Get in Touch
Keep your home & family protected!

Please do not hesitate to get in touch with us at Bug Free to learn more about our Cockroaches extermination service and other services by giving us a call on 1300 855 548 and make sure to mention our website to receive 10% discount off your bill!
See all our services
Book a Pest Service