European Wasps

Completely
Australian Run

Mention this Ad & Get
10% discount off any job
European Wasp Control
Experience a Bug Free home
European wasps have black and yellow stripes, with black spots down their abdomen and yellow legs. They are about 20mm long and a little bit bigger than a bee. The European wasp (also known as Vespula germanica) is local to parts of Europe, Asia and North Africa. European wasps can be categorised as a pest because they are far more aggressive than local wasps. This insect opts to live around humans due to the prepared supply of sustenance, especially of the sweet assortments.
As stated before, European wasps are much more aggressive– they are attracted to food and drink, particularly sweet food and meat (this is why they show up at barbecues) . European wasp nests have thousands of wasps. Each of them can sting a victim many times and a very painful sting from an European wasp can lead to a red swelling and serious allergies in sensitive people. If you can see numerous wasps flying around your property, there is most likely a nest somewhere–within 50 to 200 metres distance. You are strongly advised not to deal with the wasp infestation by attempting to remove the wast nest on your own as that can agitate the wasps.
The Best Pest Control Services in Sydney
We guarantee our customers 100% workmanship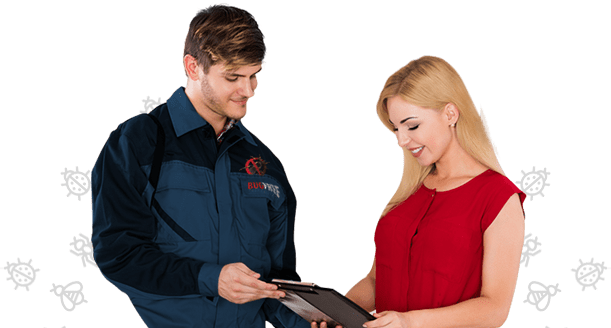 Highly Experienced & Trained Technicians

Servicing over 10,000 Pest Control Services

Quality Services & Affordable Prices

Same Day Bookings & Services

Providing Long Term Pest Control Services

Guaranteed On-time Services
We got you covered!
---
Look no further than Bug Free to provide you the best quality of pest control services at a competitive pricing for excellent European Wasps antextermination service.
Quality you can trust!
---
At Bug Free, we ensure to remedy your pest problems at hand and to happily provide a guarantee for extra peace of mind. Our highly skilled and experienced pest controllers will have those European Wasps exterminated and guarantee your home will be European-wasp-free.
Get in Touch
Keep your home & family protected!

Please do not hesitate to get in touch with us at Bug Free to learn more about our European Wasps extermination service and other services by giving us a call on 1300 855 548 and make sure to mention our website to receive 10% discount off your bill!
See all our services
Book a Pest Service