Mosquitoes

Completely
Australian Run

Mention this Ad & Get
10% discount off any job
Mosquito Control
Experience a Bug Free home
Mosquitoes can easily be found everywhere, especially in open spaces like a porch or terrace. Most people cannot enjoy their time when they are relaxing in their backyard in the evening because they are attacked by mosquitoes. Chances are if you spend any time outdoors, you have considered some sort of mosquito protection. One in particular is amid the warm summer months–mosquitoes can be especially irritating, and their itchy bites can be such a big downer to any fun activities that take place outdoors. While you are bound to be bitten in outdoor spaces, these pests can invade your home and linger there as well. In addition, if you have still water in your property, you can also expect some infestation. Mosquitoes lay their eggs in the water and that is the place their larvae will flourish and sustain until they are adults.
Mosquitoes can be very annoying and shockingly difficult to get rid of. Regardless of how frequently you swat them or what kind of repellent you use–they return and bite you. Some bites can lead to allergic reactions and even harmful diseases (e.g. Zika and Nile Virus) So getting rid of them is a really serious stuff to tackle. Turning to a mosquito control expert can help keep mosquitoes away all season long.
The Best Pest Control Services in Sydney
We guarantee our customers 100% workmanship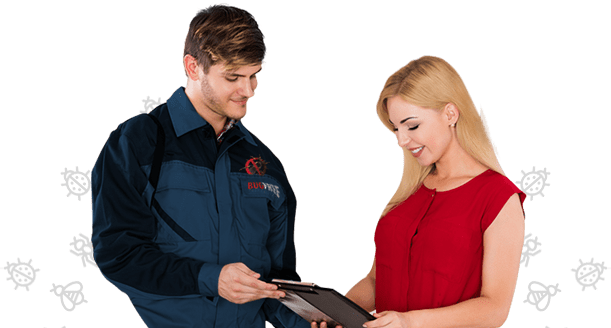 Highly Experienced & Trained Technicians

Servicing over 10,000 Pest Control Services

Quality Services & Affordable Prices

Same Day Bookings & Services

Providing Long Term Pest Control Services

Guaranteed On-time Services
We got you covered!
---
Look no further than Bug Free to provide you the best quality of pest control services at a competitive pricing for excellent Mosquitoes antextermination service.
Quality you can trust!
---
At Bug Free, we ensure to remedy your pest problems at hand and to happily provide a guarantee for extra peace of mind. Our highly skilled and experienced pest controllers will have those Mosquitoes exterminated and guarantee your home will be mosquito-free.
Get in Touch
Keep your home & family protected!

Please do not hesitate to get in touch with us at Bug Free to learn more about our Mosquitoes extermination service and other services by giving us a call on 1300 855 548 and make sure to mention our website to receive 10% discount off your bill!
See all our services
Book a Pest Service