Moths

Completely
Australian Run

Mention this Ad & Get
10% discount off any job
Moth Control
Experience a Bug Free home
Moths along with their eggs and larvae are tiny to the point that they can easily be missed, especially if you own carpets that contain a large amount of wool within its fabrics. Once inside your home, some types of moths – like Clothes Moths or Carpet Moths can seriously harm natural fibres (e.g. wool, silk or cotton) in rugs, garments, fabrics, fur and even leather items. Moth caterpillars harm those materials by eating the protein (keratin) found in natural materials. This can possibly put your delicate items at risk, especially if they are put away in drawers, wardrobes or under the bed for extensive periods of time.
In contrast to other pests, moths do not pose a threat to health risks. However, most moths are considered as pest due to the unsightly damage their larvae cause to clothes, fabrics, furs and stored items. A moth infestation causes potential harm to stored goods and big financial misfortunes when moths lay eggs and the larvaes feed on the goods, particularly the expensive ones. If a moth infestation becomes worse, you and your family risk getting your personal clothings and stored dried foods ruined. When dealing with moth infestations, it requires more intensive pest control measures. Thus, control of moth before its infestation is critical .
The Best Pest Control Services in Sydney
We guarantee our customers 100% workmanship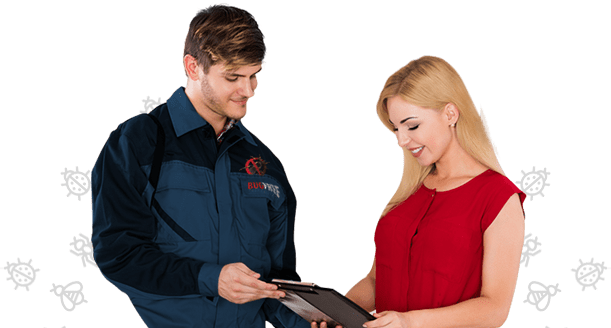 Highly Experienced & Trained Technicians

Servicing over 10,000 Pest Control Services

Quality Services & Affordable Prices

Same Day Bookings & Services

Providing Long Term Pest Control Services

Guaranteed On-time Services
We got you covered!
---
Look no further than Bug Free to provide you the best quality of pest control services at a competitive pricing for excellent Moths antextermination service.
Quality you can trust!
---
At Bug Free, we ensure to remedy your pest problems at hand and to happily provide a guarantee for extra peace of mind. Our highly skilled and experienced pest controllers will have those Moths exterminated and guarantee your home will be moth-free.
Get in Touch
Keep your home & family protected!

Please do not hesitate to get in touch with us at Bug Free to learn more about our Moths extermination service and other services by giving us a call on 1300 855 548 and make sure to mention our website to receive 10% discount off your bill!
See all our services
Book a Pest Service