Pest Control Auburn
Being a local Auburn pest control company, we ensure

we take pride in our service offering. BugFree Pest Control is your trusted provider of the most effective pest services in Sydney. We offer pest prevention solutions to all residential, commercial, home or business properties.
Our main goal is to rid your premises of any unwanted pests, vermin inspects or infestations. Having operated in the pest control industry market for over 20 years, we pride ourselves on serving our local, loyal clients to the level of highest standard service we would provide our family. Our experience allows us to know exactly what solution to deploy for any pest issue.
Bug-Free: Fully Licensed Pest Control Auburn Company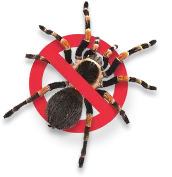 Throughout our years of experience and have serviced thousands of households, we understand that finding a reliable and effective pest control company in the area is extremely difficult. This is usually why most households do not have a preferred pest control company. We guarantee that when you use our safe and effective service once, you will become part of the BugFree family.
Giving you our best Pest control services is our responsibility & a promise. If you are suffering from a pest and termites just give us a call. Our local trained pest control team will be at your place just in one call, to inspect & check your property covering each and every corner of your place.
The inspection includes an overall checkup of your bedroom, bathroom, kitchen etc. Our services also include an inspection of appliances & ceilings which might lead to a pest problem in the future state.
Vermin in the house could be a serious issue that's why we come up with humane and chemical, pesticide & insecticides repellent pest control solutions
Our Vehicles: Completely Stocked With All-Safe Chemicals & Equipment
We have made a point in ensuring that every vehicle and our professional pest controller is equipped with every chemical solution required to solve any of your pest problems. Our aim is to ensure we service your premises on the same day. You will see one of our pest control vehicles roaming as we are a local highly recommended company.
Our Pest Control Technicians: Trained & Experienced

Our pest control experts have been fully trained internally to ensure we have a comprehensive understanding about any pest, insect, vermin or termite infestation. We will be able to deploy the most effective solution. Our technicians will also focus on applying the solution in a way where we will not have to return for this pest issue.
It is often said, "Prevention is better than cure". We apply the same rule while offering you a wide solution to get rid of the pest, with a wide spectrum of prevention & exclusion tricks & tips to never be bothered by pests again.
Bug-Free Pest Control makes sure that your family is in a protected environment by offering its exclusive services to all the houses situated in the.
Wondering how to avoid Pest Infection?
We provide you a wide range of unique professional techniques on how to avoid pest infection.
We give you complimentary service of a 3 months guarantee combined with two extra visits by our professional which can be booked for free only when you have booked & utilised our full service.
To ensure a safe, clean & tidy environment, upon request you can also take advantage of professional disinfect procedures at a suitable price. . Our services are extended in affected areas of residential & commercial areas giving you a variety of options to make you feel safe from pests.
Bug-free Pest Control are 24/7 on their feet covering all these 4 steps
Investing
Implementing
Preventing
Disinfecting
Which are the proven methodology to get rid of pests & pesticides instantly.
After care is a must and equally important, we offer you services related to dead animal removal, pest proofing and disinfecting, a means by which it will help you keep your place protected & clean for longer period of time.
Types of Pest Control Services In Auburn
BugFree Pest Control offers every type of pest management service. Unlike other pest control companies in Sydney, BugFree will be able to address every type of pest problem. Just in case you would like to double-check, please see below the types of pests we commonly treat:
General Pest Control Sprays For:
Specific Pest Services List:
Check out what other customers are saying about Bugfree
FREE No-Obligation Pest Control Price
BugFree is the brand you can trust when it comes to looking for a reliable, trustworthy pest control solution company. We operate 7 days a week across the entire year. Please speak to our friendly team or enquire online for a free, no obligation quote. Our Pest Control team on the phone are real pest controllers, so you can ensure that we will talk you through the pest Free process.
Call Today: 1300 855 5482  OR  Book Online
Our Popular Suburbs We Provide Our Pest Services In:
Bankstown, Lidcombe, Auburn, Homebush West, Guildford, Burwood, Granville, Merrylands, Liverpool, Ryde, Redfern, Surry Hills, Sydney, Darlinghurst, Blacktown, Cronulla, Maroubra, Coogee, Bondi, Kellyville, Mount Druitt, Campbelltown, Dee Why, Penrith, Eastern Suburbs, Inner West, Northern Beaches, Western Sydney