Pigeons

Completely
Australian Run

Mention this Ad & Get
10% discount off any job
Pigeon Control
Experience a Bug Free home
Pigeons have adjusted well to the urban environment, multiplying and bringing problems such as swooping, unhygienic bird droppings, clamour and flapping. Pigeons can cause a great deal of damage to a structure as well as being transmittable diseases carriers. There have been a few situations where structures have crumpled because of the development of pigeon droppings, making it a perilous situation for those nearby.
Pigeons can turn out to be highly invasive nuisance for home and business owners. Besides being a nuisance and making a wreck, pigeons can also create a health hazard. If you have a pigeon infestation of any size, there is a genuine risk of catching an illness from their droppings. The safe bet is to deal with your pigeon infestation as quickly as time permits to eliminate any risk of serious illnesses. Pigeons can contract and carry a number of diseases and parasites which end up in their droppings. Additionally, pigeon droppings make any surface look terrible, and they accelerate the deterioration of your property. This can prompt an increase in the expense of building maintenance and repair. You are strongly advised to let a pigeon control expert to handle a pigeon infestation at your property.
The Best Pest Control Services in Sydney
We guarantee our customers 100% workmanship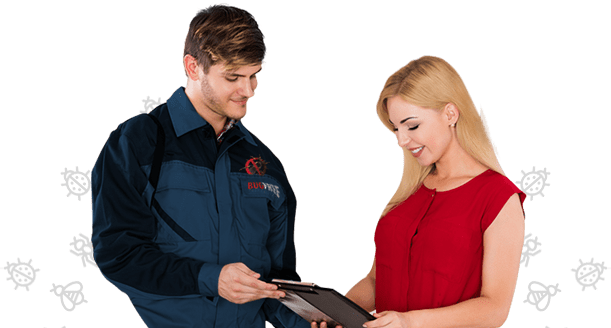 Highly Experienced & Trained Technicians

Servicing over 10,000 Pest Control Services

Quality Services & Affordable Prices

Same Day Bookings & Services

Providing Long Term Pest Control Services

Guaranteed On-time Services
We got you covered!
---
Look no further than Bug Free to provide you the best quality of pest control services at a competitive pricing for excellent Pigeons antextermination service.
Quality you can trust!
---
At Bug Free, we ensure to remedy your pest problems at hand and to happily provide a guarantee for extra peace of mind. Our highly skilled and experienced pest controllers will have those Pigeons exterminated and guarantee your home will be pigeon-free.
Get in Touch
Keep your home & family protected!

Please do not hesitate to get in touch with us at Bug Free to learn more about our Pigeons extermination service and other services by giving us a call on 1300 855 548 and make sure to mention our website to receive 10% discount off your bill!
See all our services
Book a Pest Service