Possums

Completely
Australian Run

Mention this Ad & Get
10% discount off any job
Possum Control
Experience a Bug Free home
Possums are common pests that have caused some immense household and health-related problems all throughout the country. They are nighttime creatures that regularly take shelter in house rooftops or ceilings and gardens, and are so natural to breed and multiply. They can live and thrive in various areas and are found nesting inside house walls and closets for the most part. They also eat whatever that they can get simple and easy access to. These animals are considered as pests as they have the reputation in causing tremendous problems at home like biting off electrical wiring, damaging roof protection, and tainting areas with their faeces and urine.
Possums make their presence known and felt once they invade your home. Noises they make are so similar to the clamours made by mice and rats that you may undoubtedly confuse them with rats and mice. Aside from keeping you awake at night, possums typically also leave droppings lying around–which represents a health issue. At the point when an entire possum family lives in your house, they can make an impressively enormous damage to your property. However, possums are a protected species, which means you need to be careful about how to evacuate them. It is highly recommended that you do not attempt to remove these pests on your own as that can lead to injuries and other such problems. Therefore, the most ideal approach to manage the situation is by hiring a possum removal expert.
The Best Pest Control Services in Sydney
We guarantee our customers 100% workmanship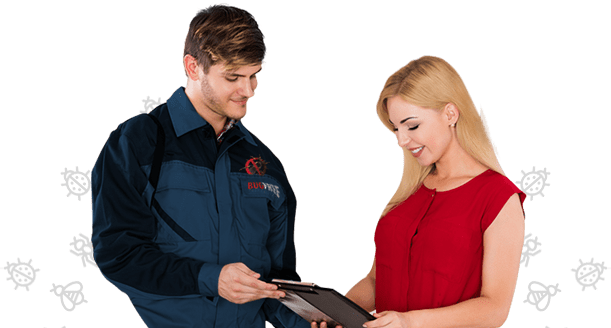 Highly Experienced & Trained Technicians

Servicing over 10,000 Pest Control Services

Quality Services & Affordable Prices

Same Day Bookings & Services

Providing Long Term Pest Control Services

Guaranteed On-time Services
We got you covered!
---
Look no further than Bug Free to provide you the best quality of pest control services at a competitive pricing for excellent Possums antextermination service.
Quality you can trust!
---
At Bug Free, we ensure to remedy your pest problems at hand and to happily provide a guarantee for extra peace of mind. Our highly skilled and experienced pest controllers will have those Possums exterminated and guarantee your home will be possum-free.
Get in Touch
Keep your home & family protected!

Please do not hesitate to get in touch with us at Bug Free to learn more about our Possums extermination service and other services by giving us a call on 1300 855 548 and make sure to mention our website to receive 10% discount off your bill!
See all our services
Book a Pest Service