Rodents

Completely
Australian Run

Mention this Ad & Get
10% discount off any job
Rodent Control
Experience a Bug Free home
Imagine living in a house full of rodents and other pests. Rodents are very dirty and harmful creatures because they can carry diseases, germs, parasites, and bacteria as they walk and run around. They can freely enter your homes as their body is made flexible and some species can even climb walls and roofs. It's dangerous to live in a place filled with rodents. They can steal your food and infect them with their dirty hands. The tiles they walk in will be dirty and filled with germs. This is why rodent control is important, especially in a huge city like Sydney. But don't worry because Bugfree is here to help you!
Be it your home, your office, at a restaurant, or any other place, Bugfree is committed to eliminate all rodents in your workplace and living space. We've had more than 2- years of experience in this field, so we know the strengths and weaknesses of all rodent types. We know where they hide, where they nest, their behaviors and everything about them. this will make controlling them easier. Our prices are also fixed and affordable, starting from $135. Our services and methods are safe for both pets and children, so you won't have to worry about them. Also, our rodent control method is eco-friendly and will not harm the environment.
Why choose us? With can guarantee your satisfaction up to 100%, and as mentioned above, we've had over 20 years of experience so we know everything about it. Our rodent control treatments are all effective and efficient and it's very time-efficient as well. So if you're having issues with rodents and other pests, make sure to call Bugfree for the best rodent control experience in your life. We will make sure that you area will be free of rodents in no time.
The Best Pest Control Services in Sydney
We guarantee our customers 100% workmanship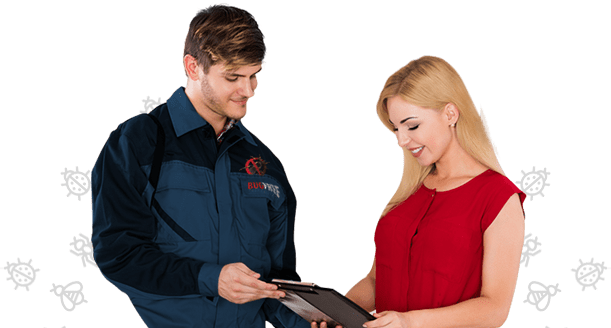 Highly Experienced & Trained Technicians

Servicing over 10,000 Pest Control Services

Quality Services & Affordable Prices

Same Day Bookings & Services

Providing Long Term Pest Control Services

Guaranteed On-time Services
We got you covered!
---
Look no further than Bug Free to provide you the best quality of pest control services at a competitive pricing for excellent Rodents antextermination service.
Quality you can trust!
---
At Bug Free, we ensure to remedy your pest problems at hand and to happily provide a guarantee for extra peace of mind. Our highly skilled and experienced pest controllers will have those Rodents exterminated and guarantee your home will be rodent-free.
Get in Touch
Keep your home & family protected!

Please do not hesitate to get in touch with us at Bug Free to learn more about our Rodents extermination service and other services by giving us a call on 1300 855 548 and make sure to mention our website to receive 10% discount off your bill!
See all our services
Book a Pest Service