Silverfish

Completely
Australian Run

Mention this Ad & Get
10% discount off any job
Silverfish Control
Experience a Bug Free home
Silverfish are wingless insects with slim body shapes that sway forward and backward while running across bathroom and kitchen floors. For the most part, silverfish have a grey/silver skin colour and have 3 long bristles on the back and 2 bigger antennae on the front. Silverfish may resemble regular fish because of the way they look and move, but the resemblance does not have any scientific merit. Silverfish love the darkness and dampness that are normally found in carports, storage rooms, kitchens and bathrooms.
Other than being a nuisance in your home, silverfish has destructive feeding propensities. They can cause extensive issues by damaging valuable items such as books, photographs, paintings, and other household items that contain starch. This nocturnal and discreet nuisance can cause an infestation to go unnoticed for an extensive stretch of time until significant damages have been done. Silverfish can figure out how to discover multiple places to inhabit, but thrive in conditions of high humidity and can frequently be found in dark, damp areas such as kitchens, bathrooms, basements and attics. In small numbers, silverfish insects do not generally cause a problem, but a large infestation can prompt a serious issue for your business.
The Best Pest Control Services in Sydney
We guarantee our customers 100% workmanship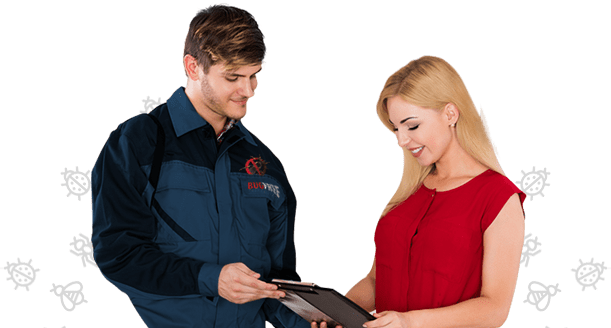 Highly Experienced & Trained Technicians

Servicing over 10,000 Pest Control Services

Quality Services & Affordable Prices

Same Day Bookings & Services

Providing Long Term Pest Control Services

Guaranteed On-time Services
We got you covered!
---
Look no further than Bug Free to provide you the best quality of pest control services at a competitive pricing for excellent Silverfish antextermination service.
Quality you can trust!
---
At Bug Free, we ensure to remedy your pest problems at hand and to happily provide a guarantee for extra peace of mind. Our highly skilled and experienced pest controllers will have those Silverfish exterminated and guarantee your home will be silverfish-free.
Get in Touch
Keep your home & family protected!

Please do not hesitate to get in touch with us at Bug Free to learn more about our Silverfish extermination service and other services by giving us a call on 1300 855 548 and make sure to mention our website to receive 10% discount off your bill!
See all our services
Book a Pest Service