Wasps

Completely
Australian Run

Mention this Ad & Get
10% discount off any job
Wasp Control
Experience a Bug Free home
Wasps are regularly confused with bees and mistook for other stinging insects. Wasps have the notoriety for structuring their nests directly in places where a bunch of people like to gather– around your deck or under the eaves of your rooftop in your terrace. These stinging insects are also well known for viciously guarding their nests. Wasps can be categorised as solitary or social, and there are actually wasps that do not sting at all. The most ideal approach to anticipate unpleasant experiences with social wasps is to stay away from them. If you know where they are, it is best you do do not get any close to their nesting places.
Wasps can turn out to be very defensive of their nests , particularly when their nest is disturbed due to their chemical communication. Wasps are so much more aggressive than bees. Wasps can be particularly aggressive during the last months of summer. If you can see many wasps flying around your property, there is most likely a nest somewhere – within the distance of 50 to 200 metres. You are strongly advised not to deal with the wasp infestation by attempting to remove the wast nest on your own as that can agitate the wasps.
The Best Pest Control Services in Sydney
We guarantee our customers 100% workmanship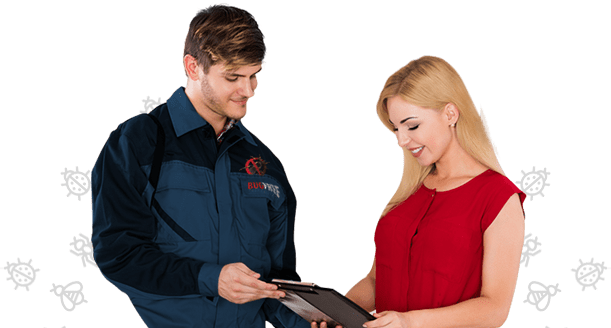 Highly Experienced & Trained Technicians

Servicing over 10,000 Pest Control Services

Quality Services & Affordable Prices

Same Day Bookings & Services

Providing Long Term Pest Control Services

Guaranteed On-time Services
We got you covered!
---
Look no further than Bug Free to provide you the best quality of pest control services at a competitive pricing for excellent Wasps antextermination service.
Quality you can trust!
---
At Bug Free, we ensure to remedy your pest problems at hand and to happily provide a guarantee for extra peace of mind. Our highly skilled and experienced pest controllers will have those Wasps exterminated and guarantee your home will be wasp-free.
Get in Touch
Keep your home & family protected!

Please do not hesitate to get in touch with us at Bug Free to learn more about our Wasps extermination service and other services by giving us a call on 1300 855 548 and make sure to mention our website to receive 10% discount off your bill!
See all our services
Book a Pest Service