Bed Bugs Pest Control Sydney

Completely
Australian Run

Mention this Ad & Get
10% discount off any job
Bed Bugs Control & Removal
Experience a Bug Free home
Bed bug are oval, wingless insects that have rusty brown skin colour and around 4 to 5 mm long when they are fully grown, which enables them to stow away on narrow cracks and crevices. They are blood feeding insects that like to bite humans but will also benefit themselves from other warm blooded animals. As their name suggests, this pest gets its name from the fact that it is generally found in close proximity to beds due to their needs of the blood of warm-blooded animals to survive. Although, bedrooms are not the only place where bed bugs can be a concern–any place that humans sit, rest or sleep can be a place that bed bugs are introduced or feed.
Bed bugs are troublesome household pests – they can pose potential health risks for you and your family. Bed bugs can mature in about 35 days. They then live about seven to 12 months. This makes rooting out a bed bug infestation or a bed bug removal process difficult to the untrained eye. Additionally, bed bugs' hiding spots are hard to find. Hence, a professional help is required…
The Best Pest Control Services in Sydney
We guarantee our customers 100% workmanship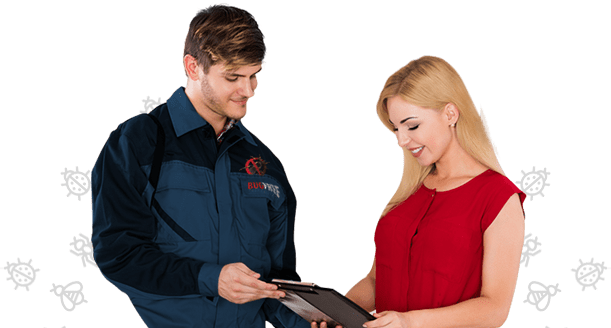 Highly Experienced & Trained Technicians

Servicing over 10,000 Pest Control Services

Quality Services & Affordable Prices

Same Day Bookings & Services

Providing Long Term Pest Control Services

Guaranteed On-time Services
We got you covered!
---
Look no further than Bug Free to provide you the best quality of pest control services at a competitive pricing for excellent Bed Bugs Pest Control Sydney antextermination service.
Quality you can trust!
---
At Bug Free, we ensure to remedy your pest problems at hand and to happily provide a guarantee for extra peace of mind. Our highly skilled and experienced pest controllers will have those Bed Bugs Pest Control Sydney exterminated and guarantee your home will be bed-bugs-pest-control-sydne-free.
Get in Touch
Keep your home & family protected!

Please do not hesitate to get in touch with us at Bug Free to learn more about our Bed Bugs Pest Control Sydney extermination service and other services by giving us a call on 1300 855 548 and make sure to mention our website to receive 10% discount off your bill!
See all our services
Book a Pest Service