Rats Pest Control Sydney

Completely
Australian Run

Mention this Ad & Get
10% discount off any job
Rat Exterminators & Treatment 
Experience a Bug Free home
Rat poses one of the most widely recognised pest problems in many homes and offices for a long time. Rat infestation causes millions of bucks worth of property damage and a plague of diseases and infections. They gnaw on everything including paper, wood, plastics, some metals, electrical cables, insulation and wiring. They are behind numerous of fire incidents, where they bite on electrical wires and bring into their nesting materials thus igniting fire from the wires that are stripped of their insulation. They can also compromise the structural integrity of buildings with wooden structures. Rats are considered to be a top-level destroyer in the pest world.
Control Rat Infection By Call Expert Rat Pest control Company
Discovering rats in your home or business can be very upsetting. Rats can spread diseases as they continue to look for nourishment and shelter, posing health risks, particularly in kitchens and sustenance stockpiling territories. Rats also contaminate food and other properties with their faeces, urine and foul odour. Their contamination can result in food poisoning and other unhealthy conditions. Rats are filthy and disgusting creatures and should be wiped out as quickly as possible. The diseases rats transmit do not only spread to humans but also to pets. This means that no one is safe in your home if these pests are present. Therefore, it is critical to take action to eliminate a rat infestation immediately.
The Best Pest Control Services in Sydney
We guarantee our customers 100% workmanship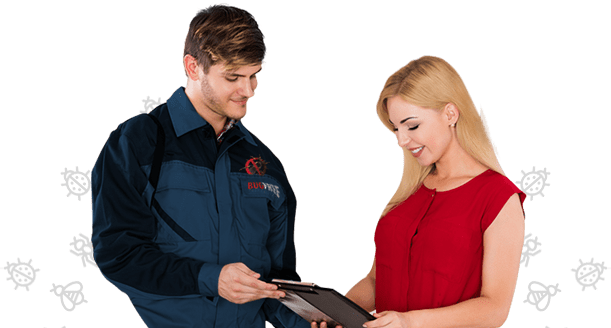 Highly Experienced & Trained Technicians

Servicing over 10,000 Pest Control Services

Quality Services & Affordable Prices

Same Day Bookings & Services

Providing Long Term Pest Control Services

Guaranteed On-time Services
We got you covered!
---
Look no further than Bug Free to provide you the best quality of pest control services at a competitive pricing for excellent Rats Pest Control Sydney antextermination service.
Quality you can trust!
---
At Bug Free, we ensure to remedy your pest problems at hand and to happily provide a guarantee for extra peace of mind. Our highly skilled and experienced pest controllers will have those Rats Pest Control Sydney exterminated and guarantee your home will be rats-pest-control-sydne-free.
Get in Touch
Keep your home & family protected!

Please do not hesitate to get in touch with us at Bug Free to learn more about our Rats Pest Control Sydney extermination service and other services by giving us a call on 1300 855 548 and make sure to mention our website to receive 10% discount off your bill!
See all our services
Book a Pest Service