Spiders Pest Control Sydney

Completely
Australian Run

Mention this Ad & Get
10% discount off any job
Spider Pest Controller & Removal
Experience a Bug Free home
When it comes to spider control in Sydney, the most common species that's concerining everyone are the white tail spider and redbacks. They are both troublesome and can make life difficult for you. Both species can bite and their bites are not only painful, but also very harmful for they can cause severe skin ulceration and if not treated properly, can lead to infection. If you live in a place with pets and children, it's important to consider spider control for a safe and better living.
White-tailed spiders are hazardous since they can cause health problems even though only the female's bite is harmful. If you're not sure on which spider is bugging you,see if the spider has a cigar-shaped body, a dark red to the grey body, dark orange to brown coloured legs, and two sets of faint white spots in the abdomen. If the criteria is met, then congratulations you've just spot a white-tailed spider. For redbacks, they usually nest in the garage, basements, and they like to crawl in clean and dry spaces. They don't always have the red mark on the back but most does. Female redbacks are extremely poisonous since they directly attack the nerves of the body.
Expert Spider Pest Control in Sydney
But don't worry because Bugfree gets rid of all spiders through a combination of methods that include flushing and killing them. Our team is composed of well-trained and highly experienced pest controllers. Our controllers are licensed technicians who are experts at this field so you don't have to worry about anything. We treat indoors of your home, especially the walls, windows and frames. We also treat the outside like the garage and fences to prevent them from coming again. So if you need help with spider issues here in Sydney, Bugfree will give you the best spider control experience ever.
The Best Pest Control Services in Sydney
We guarantee our customers 100% workmanship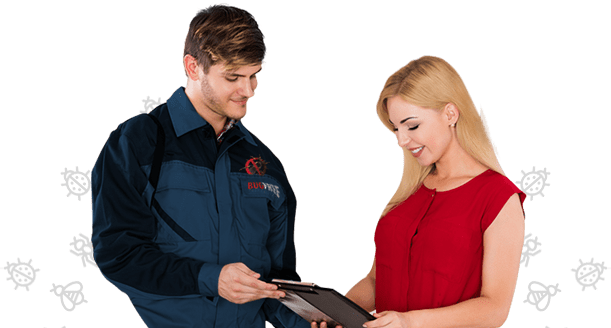 Highly Experienced & Trained Technicians

Servicing over 10,000 Pest Control Services

Quality Services & Affordable Prices

Same Day Bookings & Services

Providing Long Term Pest Control Services

Guaranteed On-time Services
We got you covered!
---
Look no further than Bug Free to provide you the best quality of pest control services at a competitive pricing for excellent Spiders Pest Control Sydney antextermination service.
Quality you can trust!
---
At Bug Free, we ensure to remedy your pest problems at hand and to happily provide a guarantee for extra peace of mind. Our highly skilled and experienced pest controllers will have those Spiders Pest Control Sydney exterminated and guarantee your home will be spiders-pest-control-sydne-free.
Get in Touch
Keep your home & family protected!

Please do not hesitate to get in touch with us at Bug Free to learn more about our Spiders Pest Control Sydney extermination service and other services by giving us a call on 1300 855 548 and make sure to mention our website to receive 10% discount off your bill!
See all our services
Book a Pest Service